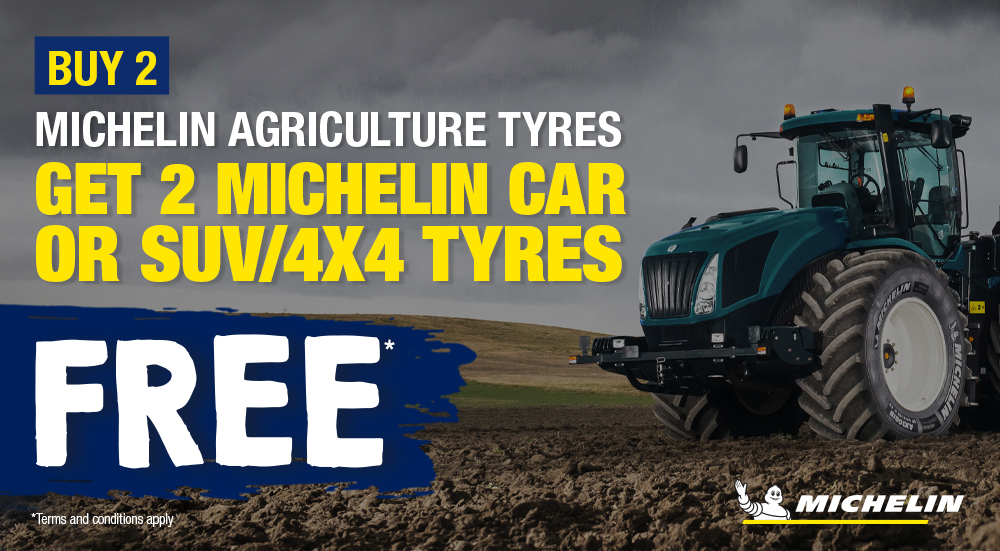 MICHELIN AGRICULTURE PROMOTION
Michelin Agriculture tyres are providing solutions in a wide range of farming and agro-industrial applications throughout the world. Michelin has developed agriculture tyres suited for all agro-machinery.
Michelin is the market innovator and leader in ultra flex technology. Ultraflex technology provides better traction from 28% – 35%, reduced soil compaction resulting up to 4% better yield – as the tyres can run at lower pressures and increased productivity through time saved in the field up to 11%. Michelin has released a comprehensive range of low-pressure tyres that cover all of farmers needs.
Michelin makes agricultural tyres for:
Tractors
Looking for productivity, respect for the agronomic potential of the soil as well as a long service life? Michelin tractor tyres can deliver these features and benefits for you.
Harvesters
Michelin satisfies the requirements of its customers with harvester products that must be able to operate in all topographical conditions.
Trailers
Trailer tyres are subject to hard use and must offer total satisfaction on roads and in fields, Michelin agricultural trailer tyres meet farmers' requirements.
Right now, when you buy two Michelin Agriculture group tyres on one invoice you will receive two Michelin Car or SUV/4×4 tyres FREE (excludes Michelin Agilis van range).
Offer valid 07/09/2020 to 06/11/2020 at participating dealers, while stocks last. Buy two Michelin Agriculture tyres and get two Michelin Car or SUV/4×4 tyres FREE. Michelin Car or SUV/4×4 ranges included are 4×4 DIAMARIS, 4×4 O/R XZL, CROSS TERRAIN, ENERGY Range, LATITUDE Range, LTX FORCE, PILOT SPORT Range, PRIMACY Range.
Browse Our Participating Stores
Offer valid 07/9/2020 to 06/11/2020 at participating dealers, while stocks last.
Offer applies to the purchase of two eligible, non-discounted Michelin agriculture tyres. For tyres to be eligible, they must have been purchased by participating dealers from Tyreline.
Normal service/fitting and balancing charges apply (if required) to any tyres purchased via this offer.
Normal service charges include charges for fitting, balancing, valve replacement and tyre disposal where required.
Servicing charges per tyre will vary between dealers. Please contact your preferred dealer for their specific charges (visit tyreline.co.nz to find participating dealer details).
Two Free tyres offer only applies to tyres purchased via one invoice.
Offer applies to cash, EFTPOS, and credit card transactions.
Offer excludes fleet, commercial and trade customers.
Cannot be redeemed in conjunction or combination with any other voucher, coupon or discount.
Available at participating authorised Michelin stockists nationwide.
Available while stocks last.