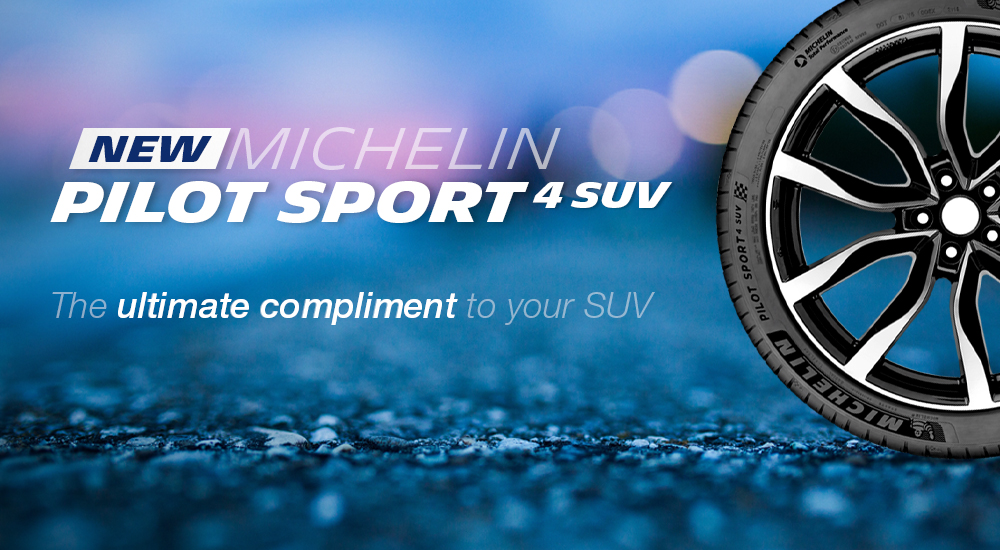 MICHELIN PILOT SPORT 4 SUV
The ultimate compliment to your SUV…
The Michelin Pilot Sport 4 SUV tyre, specially made for premium SUVs, provides you with excellent handling and a comfortable driving experience.
Outstanding grip and safety: 1st in wet and dry braking comparative tests
Asymmetrical tread pattern: external part for dry conditions, internal part for wet roads

"Dynamic response" technology: a hybrid belt made of aramid and nylon for an optimised driving precision

Groove design mastered to rigidify the tread pattern and provide grip under lateral solicitation

Tread pattern stiffness with optimised notches for excellent braking on dry roads

New compound mix with specific innovative "functional elastomers" and thin silica for excellent grip and braking on wet roads
MICHELIN PILOT SPORT: WINNING TYRE RANGE
A complete range of tyres for your sport and premium vehicles…
COMPARATIVE TESTING
Out there, you're always in control…
MICHELIN TECHNOLOGY
The Pilot Sport 4 SUV features an asymmetrical tread pattern designed to withstand severe weather conditions. The external part of this tyre provides outstanding grip and safety in dry conditions, whilst the internal part of the tyre keeps you safe on wet roads. This innovative technology, demonstrated in Michelin's comparative testing statistics, helps you stop shorter when you really need to!
INTRODUCING THE NEW: MICHELIN PILOT SPORT 4 SUV
BROWSE MICHELIN PILOT SPORT RANGE